From Ben Franklin to Modern Day: A Journey in Machining
Tom Smith's been with us since the days when machining meant manual work and a snap ring groove was a real headache. The landscape's changed, and Tom's seen it all: the move from V-belt setups to the quicker mag drills, and the constant dance of meeting ever-evolving customer demands without compromising on the craft.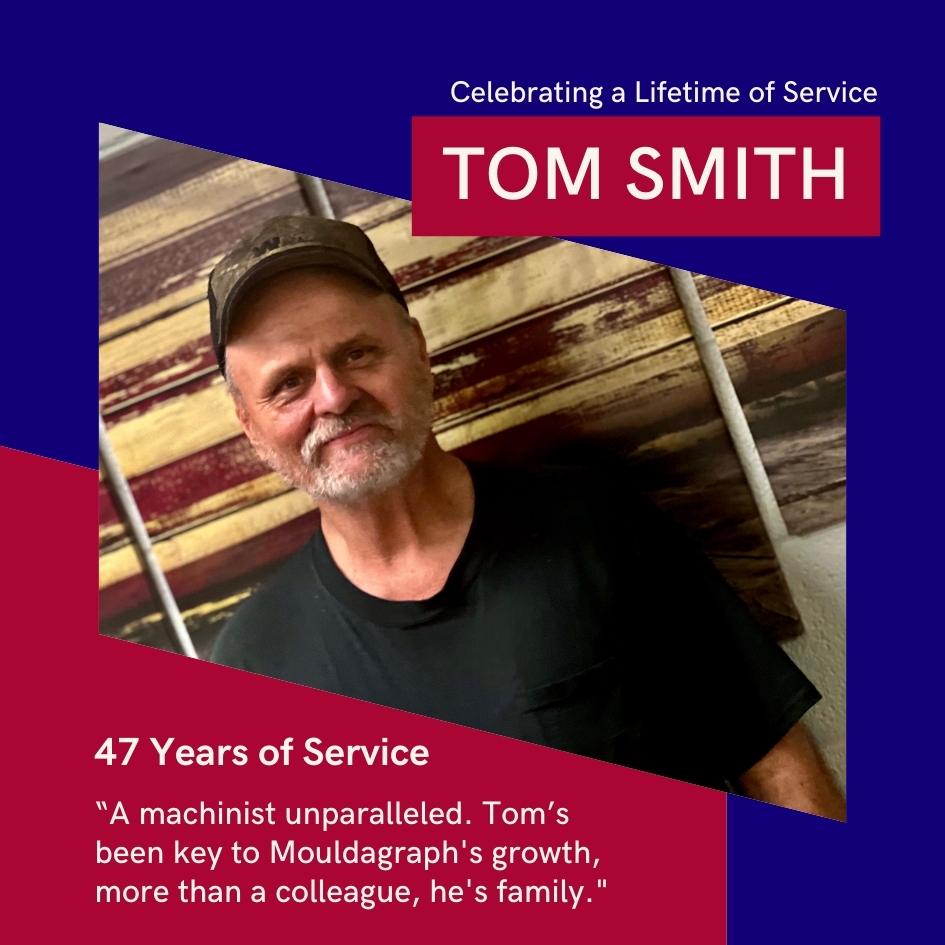 Years in Service: A Unique Perspective
Tom's journey with Mouldagraph wasn't confined to the walls of our stationary workshops. He spent significant time in the field service division, a role that brought its own set of challenges and rewards. "We had two people working in field service when I started," Tom reminisced, highlighting the division's growth over the years.
The introduction of a mobile machine shop marked a pivotal moment in Mouldagraph's field service capabilities. As Tom described, "In the shop, you bring parts in to work on. Out there, we bring the shop and the machine tooling to the customer." This shift in dynamics required a different mindset, where ingenuity and adaptability was key.
Tom's anecdotes from the field reflect the complexities of on-site work, from ensuring the precision of machinery in varying environments to the hands-on nature of assembling and disassembling equipment. "It's not just coalfields," Tom emphasized, "We go into power plants, chemical plants… and handle any kind of onsite machine work."
These experiences in the field enriched Tom's skill set and broadened his understanding of the industry, making him a versatile and invaluable asset to the Mouldagraph family.
Highly Regarded by his Colleagues
Matt Huff, a key player leading the Field Service division, says "Tom Smith epitomizes what a Mouldagraph field service employee needs to be. Toms' unparalleled dedication, work ethic and sense of pride he takes in his work is a great example to all. Tom had displayed this here at Mouldagraph for over 47 years. He has been a pillar of this company for decades. The foundation he has help lay for this company will truly carry on for the decades to come."
Mike Blake, Mouldagraph's senior shop foreman shares, "Having worked with Tom for 44 years, in the field and in the shop and on years of projects he is one of our go to guys. His character is as good as it gets, his professionalism is as good as it gets. Having the privilege to know and work with a man like Mr. Tom Smith Sr. is simply "as good as it gets!" Congratulations on a successful career, Well done!"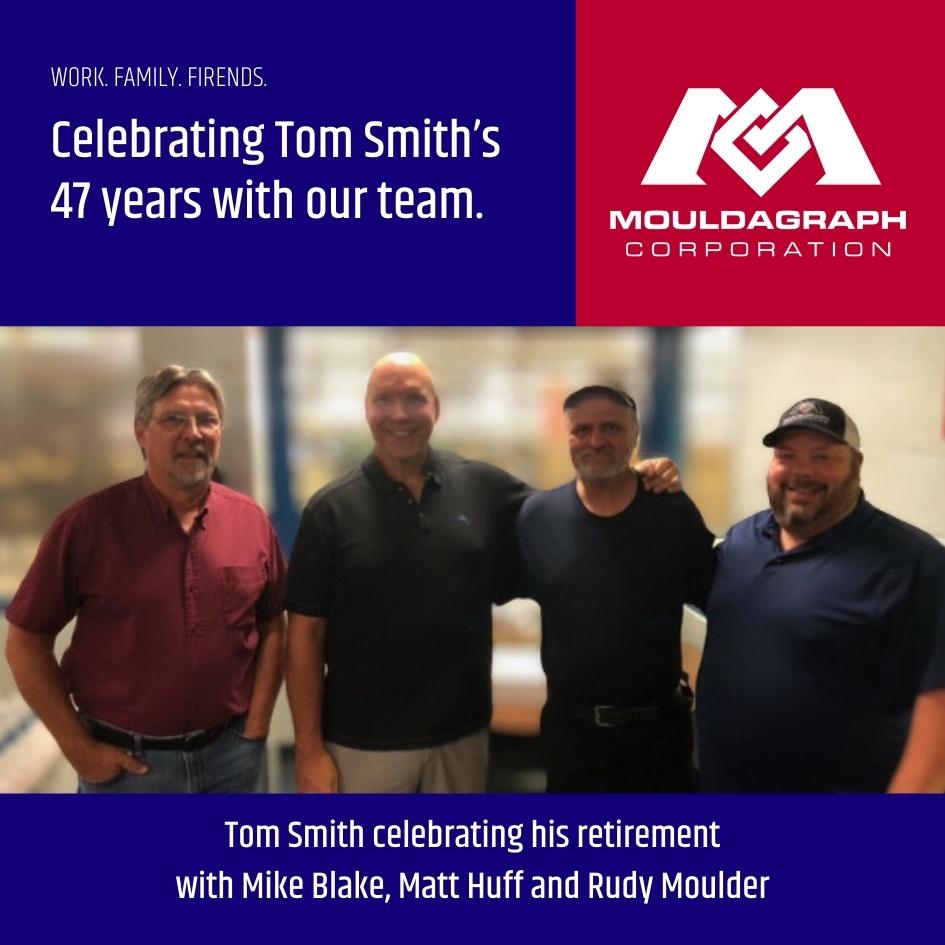 Problem-Solving: The Heart of Machining
Every machinist faces challenges. For Tom, it was about finding solutions that made the job smoother. Take the snap ring groove issue. Instead of wrestling with it the old way, Tom devised a cutter head that tackled the problem head-on. That's the kind of ingenuity that's kept Mouldagraph on the map.
It's More Than Just a Job: The Mouldagraph Family
Ask Tom about the company, and he'll talk about family. Shared dinners, team events, the camaraderie after long hours – that's what kept him rooted. It wasn't just about machinery and parts; it was about the people beside you.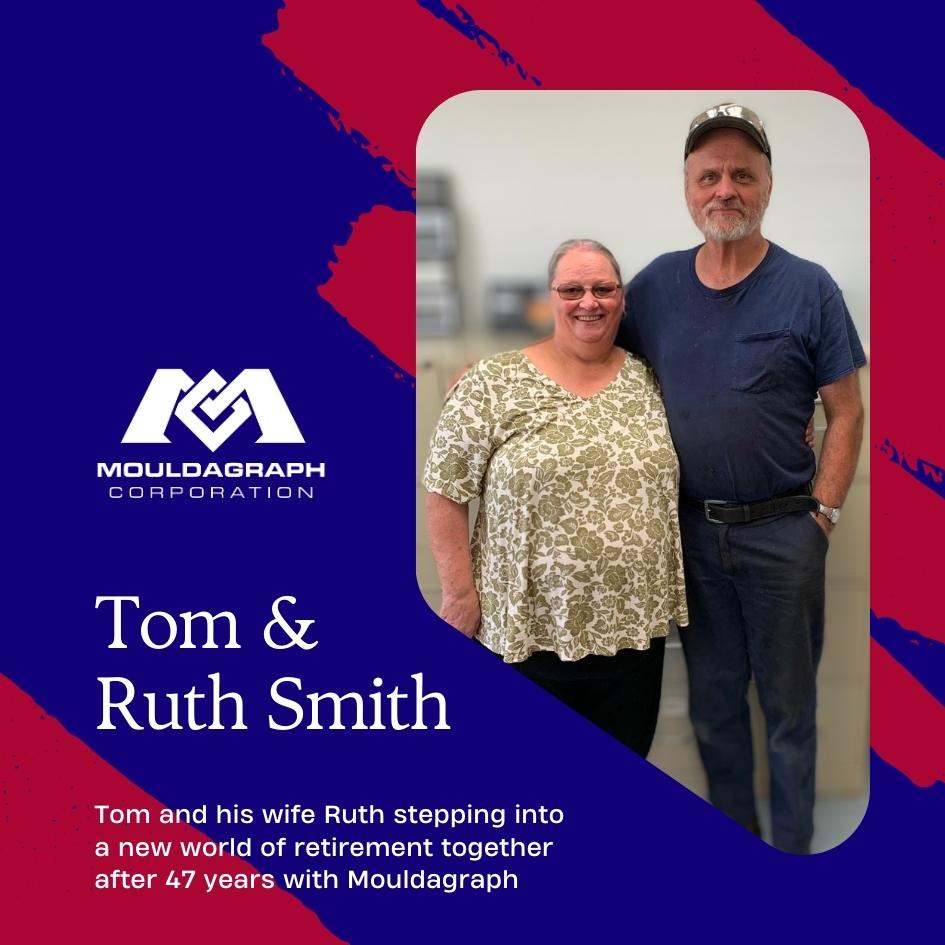 The Industry's Changing Face
Customers today want things done yesterday. Tom's seen the shift in expectations firsthand. But as he puts it, "Sometimes a slow process is necessary for precision." It's about delivering quality, even when the clock's ticking.
A Few Words for the New Blood
For those stepping into the world of machining, Tom's got some golden advice: "be patient, keep learning, and remember that speed isn't everything." The industry's evolving, but the core values remain the same.
A Legacy of Skill and Service
Tom Smith's time at Mouldagraph is a story of dedication, innovation, and a deep-seated love for the craft. As he gears up for retirement, his legacy stands as a beacon for all of us: a reminder of where we've been, and where we're headed.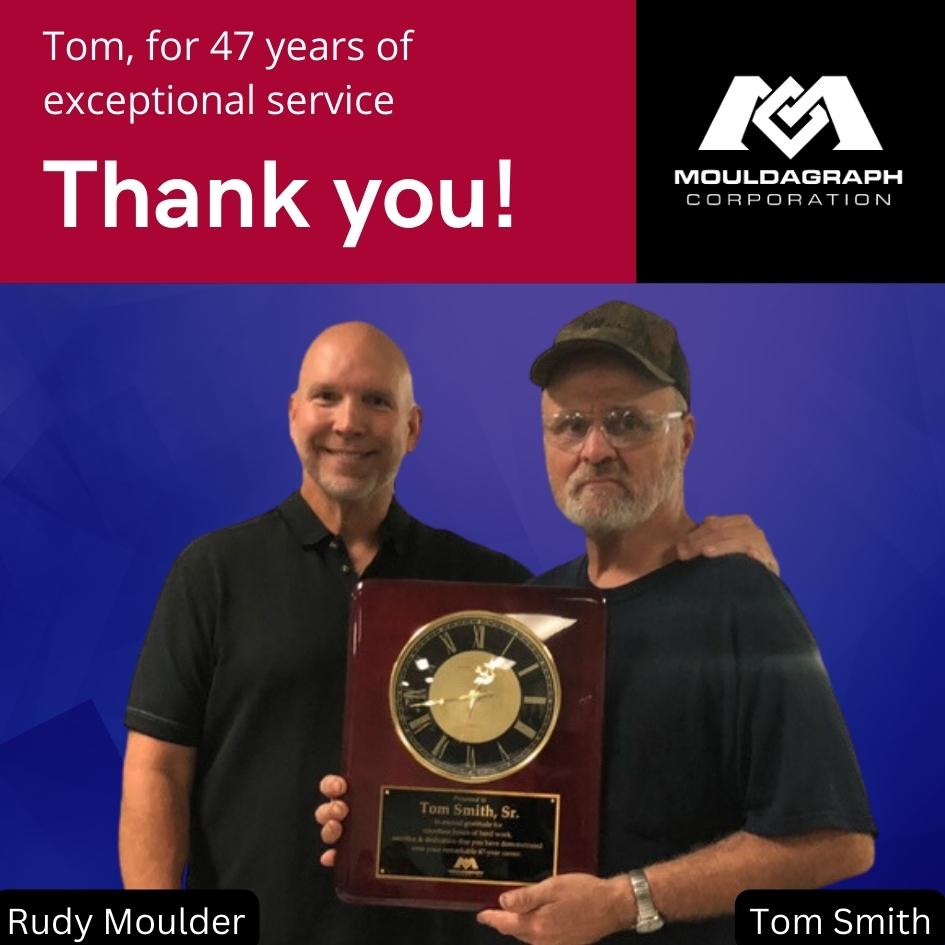 Rudy Moulder shares, "In my journey through the world of machining, Tom has been more than just a colleague; he's been a lifelong companion, a mentor, and the embodiment of Mouldagraph's unwavering spirit.
As we bid you farewell, I just want to take a moment to honor this incredible journey we've shared. Tom, your legacy isn't just in the customers, the machines, the parts you've touched but in the hearts of each one of us at Mouldagraph.
Your dedication to the craft and love for this family will forever be etched in our history. Here's to a lifetime of memories, challenges, and victories. Wishing you the same precision and dedication in your next chapter as you've shown us all these years!"
~ Rudy Moulder