Capability & Experience
Our centrifuge repair and maintenance group, Advantage Plus Centrifuge, is one of the most capable and experienced teams in the industry.
Complete Solution
We work on some of the most prominent and complex centrifuge systems and provide our clients a complete repair, disassembly, teardown, rebuild and preventative maintenance service.
Field Service & Shop Repair
We perform work in the field and if needed transport equipment back to our shop for service. We work with clients nationwide.
Machining Capability
If any part is out of OEM specifications or standards, we can help rebuild, restore to spec, or machine a new part to keep your operation up and running. Our 66k sqft shop is also fully equipped to perform dynamic rebalancing of your equipment post-repair.
Expedited Service
Often it takes at most a day to provide maintenance and repair services. Many times centrifuges are located in some tricky spots and we'll work with you to understand the logistics of your specific service and repair needs.
Spare Parts On Hand
We do stock high-demand repair parts for the more common centrifuge systems. We provide onsite inspection reports, annual maintenance plans and help you manage and monitor ongoing repair schedules.
Industry Experience
Our team is very experienced in several core industries – primarily, food processing and rendering, oil and gas separation, industrial chemical applications, and municipal waste-water treatment plants.
Contact Us Anytime
Please feel free to reach out to us for your centrifuge repair and maintenance needs. We can be a very cost-effective and most capable partner to help you keep your business operations running smoothly.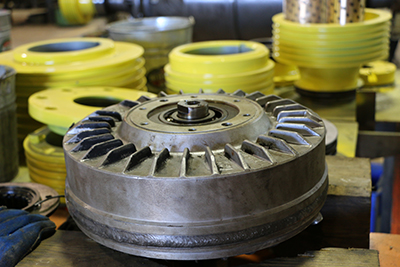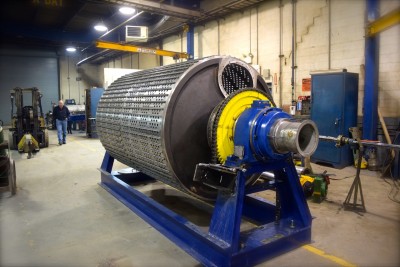 Industrial Use of Centrifuges
Centrifuge & Rendering
Advantage Plus by Mouldagraph Corporation is an Industry leader in centrifuge and rendering custom fabrication, manufacturing & repair services
Mouldagraph is a recognized leader in repair, fabrication, and manufacturing of centrifuge equipment. Our team brings many years of experience and technical knowledge to each project resulting in fast, reliable services that often save our customers time and money.
Technology
Our shop is home to state-of-the-art equipment including more than 15 lathes, with the largest being the Parabola Lathe, used primarily for Centrifuge manufacturing and repair work. Using the latest computerized Hofmann balancing machine, we can ensure each repair or re-manufacturing job will be perfectly balanced to OEM specification. Our team is experienced in reverse engineering and manufacturing of NEW Centrifuge parts with steel, stainless steel, Monel, Hastelloy, and Titanium. With five boring mills and many other machines, our equipment inventory provides all the tools and technology necessary to ensure the highest quality workmanship for each project.
Process & Capabilities
At Mouldagraph, our team of machinists and technicians can provide full service repair and fabrication in our 66,000 square feet facility or we can work on-site at a customer location. Our Centrifuge services include complete tear-down, cleaning, and full inspection. Diagnostics are run on each unit to ensure proper function of all parts and components, including vibration testing. We inspect the entire unit including bearings, gears, seals, bushings and o-rings. Once the inspection is complete, our team provides a thorough report and estimate to fix and/or rebuild the equipment. We have the capability to rebuild or fabricate replacement parts to OEM specification including gears, bowls, heads, conveyors, feed pipes and etc. Once the Centrifuge is rebuilt, we provide complete testing and diagnostics to ensure proper function that meets or exceed OEM recommendations.
Mouldagraph can custom fabricate a complete Centrifuge in our facility and we provide ongoing, routine maintenance for any industry. We serve many rendering and separation facilities across the United States including:
Protein Processing Plants
Rendering & Separation Plants
Waste & Water Treatment Facilities
Chemical Industry
Oil & Material Recovery Facilities
Pharmaceutical Separation & De-watering Facilities
Contact Us Today for all your Centrifuge needs!
Opening Hours
Monday – Friday: 7:30 am – 4 pm EST