For the past 76 years, Mouldagraph's had the privilege of serving clients in various industries. As a result of this, our company, our team, is quite different than most machine shops. Our experience is both broad and deep.
Many machining shops focus on a small number of specialized but narrow and repetitive jobs.  Here at Mouldagraph, we have worked and served a wide variety of industries. As a result, we have developed a proactive, creative, problem-solving mindset that is very unique to this business. And based on what our clients tell us, it's valued in many ways.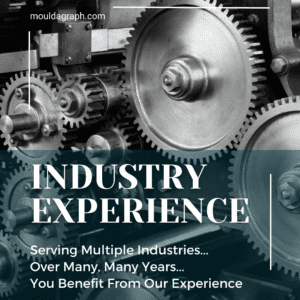 The experiences, issues, situations and lessons learned over the years are really indescribable.  We serve customers who manufacture chemicals, those who render and process food, who produce and dry coal, run heavy equipment, handle oil recovery, and manage wastewater treatment. These industries are the backbone of America's industrial strength.
Many of these industries rely on processes involving industrial centrifuges and separation in which we've become quite capable with a dedicated centrifuge team.
We have also helped many customers keep their equipment and operations running by being able to reverse engineer and fabricate repair parts to exacting OEM specifications. This helps them to obtain replacement parts more quickly and at a lower cost.
Solving these hard problems, the big problems, on-time and on-budget for such a variety of customers in these essential industries has allowed us to build a world-class team of manual and CNC machinists, industrial engineers and experienced professionals.
And we all come to work every day with one goal in mind – to help you solve your industrial machining problems in a creative, reliable and responsive way.